The Honda, Yamaha Page:
Honda will not be covered on this site because their motorcycles are covered on the three sites listed below. Just click on either one of the links provided below and see the material for Honda motorcycles:
www.markbayersvintagehonda.mysite.com
www.hondaenthusiasts.mysite.com
www.motorera.com/honda/index.htm
Honda has been one of the most significant motorcycle manufacturers in the world of motorcycling. After reviewing the above sites, move on the Yamaha.
_______________________________________________________________________________
Yamaha Motorcycles: A review of significant Yamaha's;
Yamaha Industries followed other Japanese corporations into the motorcycle business because of their desire to expand their business through the use of their surplus foundry capacity. Their main products were musical instruments, hence the tuning iron as their logo symbol. Starting in 1954, Yamaha copied the German DKW Rt125 as a base model. The DKW had been copied by numerous other companies such as Harley Davidson and BSA. The 250cc series Yamaha's were copied from the German Adler MB200/250 series as did other Japanese companies. All of the early Yamaha's were 2 strokes. The first 4 stroke was the 1970 XS-1, a refined copy of the Triumph Bonneville. Yamaha began racing their motorcycles in the mid 1960's and has become one of the most significant racing brands. Their sport bikes and dirt bikes are major winners even today! Their water cooled TR and TZ series 2 strokes were world dominators till 2-strokes were eliminated because of anti-pollution laws. Eric Buell, founder of Buell motorcycles started his racing career on a Yamaha powered racer. Yamaha did as other Japanese companies did, copied previous designs, perfected them, then made their own technically advanced designs. Yamaha has been a serious "market oriented" company which has built a reputation for having a wide range of models which are reliable, fast, advanced, and competitive in the market.
Below is a 1966 YDS2 250cc twin:
The Yamaha YDS series was to become one of the great Japanese motorcycles. Many a biker would make fun of the whing-ding sound of the exhaust, but would back down from a race. The 350cc series (YR 1 in 1967) was to become a super fast bike even winning the Daytona race against 4 stroke 750's.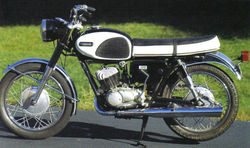 Below is an example of an early Yamaha MJ2 2-stroke:
This little 55cc single was also available in an 80cc version. The most popular Yamaha's in the early years (1961-1965) were 125cc machines or smaller. From the beginning, they offered a 250cc twin, but few were seen till after 1965. After the mid 1960's sales of their YDS series (250cc) grew faster because the bikes were really fast for their size. A Japanese 250cc 2-stroke (Yamaha, Suzuki, or Kawasaki) could beat many British 500's. A Japanese 250 with a tuned expansion chamber could humble a Harley Davidson Sportster or British 650 to around 80mph.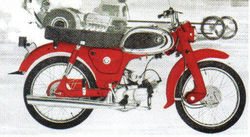 A 1978 XS 750 is shown below:
The new series 4-stroke engines produced after the XS-1 (650 vertical twin) were known as really good, sturdy engines. Starting with air cooling, then water cooling, the Yamaha engines built quite a reputation for reliable service. The TX series (500/650/750cc twins) engines were followed by the SX 750 tripple and SX1100 fours. The XJ series started in 1982.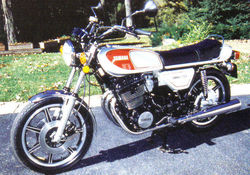 The SX-1 was offered in 1970, the SX-2 (disc brake) was offered in 1972:
The Triumph Bonneville inspired XS series was Yamaha's first attempt at a big 4-stroke. They were very reliable and have become very collectable. They were to become competitive flat trackers and great bikes to customize!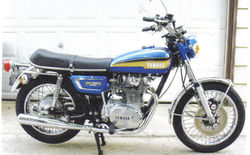 The SRX 600 pictured below was offered in 1986 only. A single cylinder motorcycle inspired by older British Cafe Racer's was not a volume seller. They are very much sought after today and are one of the most collectable Yamaha's.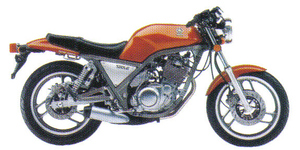 The Yamaha V-Max is an intimidating motorcycle. First offered in late 1984 (as a 1985 model) then in 1986, not offered in 1987, then back again in 1988 to 2007 nearly unchanged. The big V-4 (1200cc) "Max" has always been a streight line performer. During the last few years prior to 2007, few were sold. The model was back in the catalogue during 2008 but sold as a 2009 model. The new "Max", now 1679cc, looks very much like the original 1985 version, just updated and larger.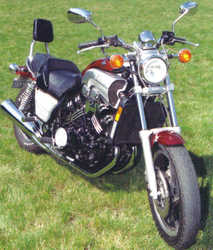 The Yamaha R-6 (600cc) pictured below is an example of the advanced engineering of Yamaha's current sport bikes. The FZ 750 of 1985 was the first of Yamaha's serious sport bikes. Preceeded by the Secca series, Yamaha built some very fast street bikes. The FZ's were followed by the YZF's which continue today. Yamaha has been a serious contendor in sport bike racing for several decades, winning many world championships!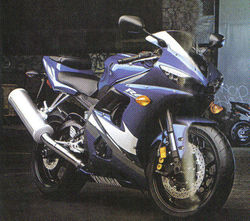 The Virago V-Twin series motorcycle was first offered in 1981. Yamaha has continued making V-Twins since, now calling them "Star" motorcycles rather than being Yamaha branded. Yamaha V-Twins have been offered in 500's, 700's, 750's, 920's, 1100's, and a few other assorted sizes as well. During the early 1980's all of the Japanese manufacturers got into the V-Twin market because of the huge growth in Harley Davidson sales. Being continually updated, the Virago (now V-Star) series is known for being reliabile and a great value for the price!