THE SUZUKI PAGE:
Suzuki began as a smaller Japanese manufacturer but has grown into one of the most significant builders:
Michio Suzuki began building silk looms in 1909. They were a major business in Japan till WWII destroyed their factory. After the war, the loom business was weak and the company looked for a new product to develop. Transportation was a major need in Japan, so the Suzuki Corporation designed and built a simple motorized bicycle in 1952. Their next product was a copy of the German DKW RT125, similar to one built by Yamaha. All their early motorcycles were small 2 strokes which were developed slowly. Suzuki entered racing in 1955 with little success. By the early 1960's, development had allowed them to see some success. They were given a boost in 1961 by East German, Ernst Degner of the MZ motorcycle company, and began winning big. He was a an important figure in turning their mundane engines into high performance ones. Suzuki was still a very small company at this time and they looked to exporting motorcycles to the US as a means of growth. Suzuki met with little success in the states till they offered their X6 Hustler, a high performance 250cc 2 stroke. The X6 was a very high performance motorcycle which was possibly the fastest 250cc motorcycle available at the time. Suzuki sold tens of thousands of these bikes and it led to the development of a long list of performance motorcycles. Suzuki is still racing and is often in the winners circle. Their current series of GSXR sport bikes are frequently considered to be among the best available.
Below is pictured a Suzuki T-10. This was Suzuki's first attempt at a "big twin". It had a 250cc engine with a 4 speed transmission. Built as a touring bike, they were not fast and required the oil and gas to be mixed. Few were sold compared to other Japanese motorcycles and few are seen today.
The X-6 Hustler put Suzuki on the map:
The Suzuki X-6 series motorcycles were high strung and unreliable unless carefully ridden. Few lasted long because new riders bought them cheap and raced them to death. The first Cycle World test of the X-6 indicated that they could be as fast as some British 650's. Fast but short lived!
The Suzuki Titan, a 500cc Twin: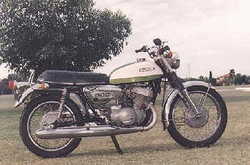 The 500cc Titan was first offered in 1970. The Titan was a much lower tuned machine than the 250 making it more usable to the typical rider. As the Japanese manufacturers progressed, they began building larger motorcycles. Riders started on inexpensive 50cc bikes, moved to 125's or 175's, then to 250's or 350's. After the 350's, they were ready for the big bikes. By the early 1970's, all the Japanese companies offered larger bikes. These new riders were used to reliable, easy to operate, non leaking, and inexpensive to operate motorcycles so most stayed with the Japanese builders.
The 1978 GS1000 put Suzuki fully into the big bike business: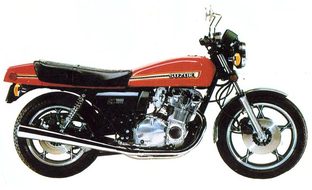 The Suzuki GS series was offered in numerous sizes from 1976 to 1985. The smallest was a 400, then a 550, 650, 750, 850, 1000, and finally an 1100. Different sizes were offered during different years. The bikes were known as being sturdy, fast, very reliable, and stylish. These bikes are still seen around today as daily riders. The big GS engines have been used for drag racing for decades because they can hold up to the pressure.
Suzuki became a significant off road motorcycle builder by the end of the 1960's and continues to build conpetitive off road bikes: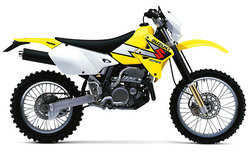 Above is a modern Suzuki DN400 dirt bike. Suzuki has built capable dual sport, scrambles, motocross, trials, and dirt bikes. Suzuki has built a string of highly competitive competition motorcycles over the years.
Suzuki entered the V twin market late. The Intruder series starts in 1986: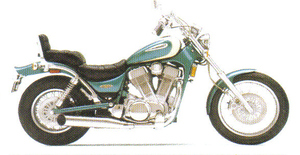 The first Intruder was a 700cc V-Twin. The 700 was followed by an 805cc version and by 2005, a 1500cc model was offered. The newest models are called Marauders and Boulevards. Since the early 2000's, Suzuki has become mor agressive in this market.
Suzuki is best known for their sport bikes. The GSXR series along with the legendary 1300cc Hayabusa: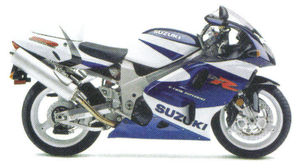 The GSXR 750 was added to the lineup in 1986. This was the beginning of a true "sport bike" for Suzuki. The GS1000S preceeded the GSXR series and was a true performance bike of significance, however the GSXR 600, 750, and 1000 series stands alone as Suzuki's most significant performance models.
Suzuki has earned it's place in motorcycle history as much more than just another brand. Suzuki has built quite an array of really good motorcycles. From a small and minor manufacturer to a major builder, Suzuki has earned it's reputation and deserves great respect.